Tuesday, July 29, 2008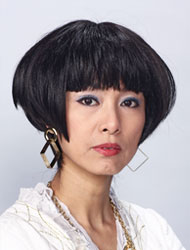 This is the blog of Yan Hong (starred by Michelle Yim). At there, she will write about her personal life, and express about her thoughts & feelings towards people around her. Feel free to surf her blog and leave her a comment. Although the person who blogged may not be Michelle, it's still a great pleasure to see your comments being seen and replied!
I personally feel that this is also a good way to indicate to others that Michelle still has our support no matter what happens, and we'll always be there for her. Aren't we? =)
Labels: Moonlight Resonance
|1:45 PM|
Monday, July 28, 2008

This is the trailer where Michelle appeared the most. Enjoy!
Please remember to watch Moonlight Resonance at 9.30pm (Hong Kong time)! Catch Michelle Yim with her excellent acting as a villain.
Labels: Moonlight Resonance
|7:42 PM|
Thursday, July 24, 2008


Generations come and go,
but the "love" remains forever.

CHUNG SIU HO (Lee Sze Kei, Louise) and her husband KAM TAI CHO (Ha Yu) have been working hard for many years to establish a famous reputation for their Moonlight Cake Shop. However, HO discovers that CHO commits adultery with her best friend YAN HUNG (Michelle Yim) and she breaks up with him miserably. HO brings along her children KAM WING HO (Lam, Raymond), KAM WING HING (Chen Fala) and her adopted daughter SUEN HO YUET (Yeung Yi, Tavia) to set up another cake shop for a living.






HUNG moves in to live with CHO and she starts playing tricks in the family. She tries pleasing her mother-in-law SHEH KWAN LAI (Lee Heung Kam) in every ways while disuniting her stepson and CHO. Outside the family, HUNG starts expanding their business rapidly and HO's younger sister CHUNG SIU SA (Kwan Kuk Ying, Susanna) is displeased. SA decides to fight for the ownership of their cake shop's brand name in court with HUNG and their relationship with HUNG further deteriorates.Apart from the cake shop business, HO also spends a lot of efforts on her children. Her oldest son KAM WING KA (Chan Ho, Moses) is not interested in managing the cake shop at all and he indulges himself on stock trading. He also develops an entangling relationship with his cousin LO KA MEI (Tsui Tsz Shan, Kate) and YUET at the same time. On the other hand, HO's younger son WING HO takes up the role of a father in the family and he works hard all the time to earn a living. WING HO loves his childhood friend CHAU (Chung Ka Yan, Linda) whole-heartedly but CHAU is in love with the doctor LING CHI SHUN (Wong Chung Chak, Bosco).




HO works hard unconditionally to strive for the well being of her family members. HUNG, on the other hand, is a very mean person who values her own benefits only. CHO is caught between the two women all the time and he feels helpless. One day, a disaster happens at the cake shop. Here comes a time when human nature, family bonds and love are brought to a trail.





Credits: Astro On Demand
Labels: Moonlight Resonance
|8:30 PM|

Well, I really can't wait to watch Michelle as a villain! =)
|8:21 PM|
Wednesday, July 23, 2008

Did u see Ha Yu hugging Michelle? =(
|12:29 AM|
Monday, July 21, 2008





Different from the previous Heart of Greed, Michelle Yim will be acting a villain this time round, portraying the bad and evil second wife who plots to have the family stay apart from each other. Enjoy!
|2:38 PM|
Saturday, July 19, 2008
Another photo:




Labels: Tian Di Bu Rong
|6:33 PM|
Thursday, July 17, 2008

25-years-old Yin Xi Hong 殷惜红




Although this costume fitting ended in the late 1am, Michelle was very happy with her hairstyle, saying that this is her most beautiful image she had over the thirty years in entertainment circles.

Well, isn't our beloved PRETTY ? =)


Pictures taken from:
http://blog.sina.com.cn/s/blog_4827a92d0100a3z6.html
http://www.michelleclan.com/
Labels: Tian Di Bu Rong
|9:15 PM|
Tuesday, July 15, 2008
Michelle is currently involving in a new Chinese drama, called Tian Di Bu Rong (天地不容). She has flown to China's Zhejiang for a costume fitting on 15th July 2008. The filming venue is in Zhejiang's Hengdian World Studios. The casts also include Audrey An 安以轩, Annie Yi 伊能静, Rain Lee 李彩桦, Feng Shao Feng 冯绍峰, Qiao Zheng Yu 乔振宇.

Credits: http://www.michelleclan.com/





Labels: Tian Di Bu Rong
|6:03 PM|
Thursday, July 10, 2008


Michelle Yim stressed that Wan Chi Keung is in the best of health

Yesterday Angela Tong and Michelle Yim attended the Dermatological promotion activities. Michelle Yim ascertained that the rumour about her boyfriend Wan Chi Keung having recurrent cancer again is not true. Michelle expressed that her boyfriend was not upset about the rumour. But felt people shouldn't write things like that. His health is very good right now. When she was asked if she gave him healthy food, Michelle replied " he has been keeping a healthy diet and having regular doctor's check up. He has made friends with his doctor"

Source: Wenweipo
Translated by: Dragon888 @ http://asianuniverse.net/forums
|8:46 PM|
Saturday, July 5, 2008
2nd of September is Michelle's birthday. With the arrival of this coming day, MichelleClan forum welcomes you to join us for this special event, "Best Wishes Happy Birthday"


In this thread, please reply the post by writing down some words & birthday wishes that you want to tell Michelle. Later on, we will gather these wishes and make them into a lovely present for Michelle.


Word limit is to be 20 & below. Please leave your name behind your birthday wishes.


Due date: 31st July 2008


For more details, please surf: http://www.michelleclan.com/viewthread.php?tid=1273&extra=page%3D1
|10:50 AM|
Friday, July 4, 2008

3 July 2008
Filming is now complete for TVB series Heart Of Greed II <溏心風暴II之家好月圓> and to mark the occasion, the cast members gathered on Tuesday evening for a celebratory meal.



Most of the main cast members were present, including the four veteran ladies Lee Si Kei (李司棋), Susanna Kwan (關菊英), Michelle Yim (米雪) and Lee Heung Kam (李香琴), who also paid for the event. However, the show's two leading males Raymond Lam (林峰) and Moses Chan (陳豪) were unable to attend due to other commitments.



Si Kei was asked why they had not asked the youngsters to pay for the meal instead and she replied that she did not really mind who paid because it was a good chance to catch up with everyone. She revealed that she had just returned from China where she was attending a three-day birthday banquet, but she had fallen ill, so she had to return to Hong Kong to receive treatment.

Susanna was also happy to treat her juniors to the meal and laughed that they had to live up to their reputation as the four great beauties.

Fala Chen (陳法拉) was particularly friendly with everyone at the event, with the aim of quashing rumours that she had upset some of her co-stars during filming of the series. Asked about recent reports that she had been putting up her fees, she replied that she did not know about this and her negotiations are all in the hands of the company. She added that she does not mind this negative press because she knows herself she is in the clear.




Michelle was asked if she had been upset about reports pointing out that her partner Wan Chi Keung (尹志強) has been in poor health and losing weight. She said that he is absolutely fine and it is just the camera angle that makes him look skinnier. Asked if Wan was annoyed by the reports, she said that he is very open-minded and just laughs it off.

Credits:
source: batgwa
by Emma Lam
Images: www.michelleclan.com
|5:45 PM|